Android is helping to move the smart phone on step closer to the PDA, With a host of new apps being developed and launched I thought it was time to business Apps are available that can help give an Android phone that extra punch in the board room, It's personal preference only here and I am sure you'll every body has their own opinion, but this is mine.
XORA GPS, Allows you to track your mobile work force in real-time with integrated GPS. The App also allows for wireless time cards and job tracking, It's available on the AT&T network packages and prices vary, but start at $21.99 per month per device.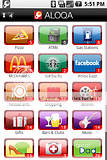 ALOQA: Not a business App as such, but great for mobile workers looking for somewhere good to eat, can make suggestions on local activities to pass the time, but the restaurant feature is what you will use the most.
GOOGLE VOICE: Easy to use and will save you money (your boss will be happy). Google voice, has lots of nice features, visual voicemail and voicemail transcripts, nice features but not something you use to often. The more usuable features include the ability to screen block or even record calls, conference calling and free SMS messaging are all useful features.
MYBACKUP PRO: allows for easy back up to SD card or online, losing years worth of valuable business contacts is not good for business, this app makes sure that won't happen.
WaveSecure, If your phones is lost or stolen this app will ensure that through a web browser any and of sensitive information can be easily wiped. But this App can go one step further. It allows you to track exactly where your phones is, if another SIM card is inserted the phone will be locked down, if you can't use it no one can, it can display messages to the finder or sound an alarm, if you do get you phones back everything can easily be restored.
Documents To Go, With free and paid versions, the free version giving basic usage, allowing you to copy and view word and excel documents, the paid version offers the free to edit as well. Also with the paid version you get PPT editing and a PDF viewer.


SCAN2PDF MOBILE: Allows you to scan invoices receipts, contact details and business cards with your phones camera everything is then converted to PDF's (the account department will be happy).
LOCALE: A smart device manager, which uses the time of day and GPS location to decide if you phone needs to set into silent mode.
Hopefully you find something of use in this lot, I can't say I use any of these on a daily basis but when I do use them, they come in really handy.